biography
---
Ananta Roosens is a violinist, a 'trumpet and voice user' and a composer who currently lives in Brussels.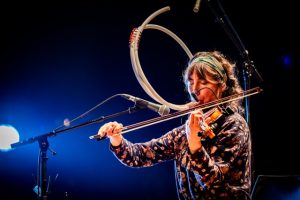 last work: With her most recent project 'Ceci n'est pas un violon' (or 'This is not a violin' referring to the famous painting by René Magritte) Ananta breaks out of her comfort zone and with her violins, her vocal cords and some household wares she goed on an unexpected journey towards the unknown.
recent work: She recently played with musicians and projects such as: Benjamin Sauzereau, Lynn Cassiers' Imaginary Band, Oba Loba, Fnüssjen, Free Desmyter & Bassem Hawar, Giovanni Di Domenico, John Ruocco, Ibrahim Ferrer (Buena Vista Social Club), Bao Sissoko, Karim Gharbi, Pieter Vandeveire, Gueladio Ba, Lyenn, Along a Line, John Birdsong, Thé Lau, Mógil, Wouter Vandenabbeele, Joris Vanvinckenroye and many more … She's also part of Cinemaximiliaan, with music by and for refugees. In 2018 she was invited by the Handelsbeurs to play at the Berlin Jazzfest.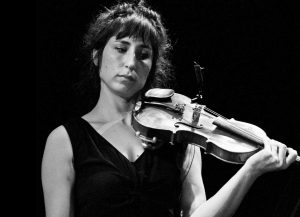 composing: She has written music for theater pieces such as Kurt Demey's La ville Qui Respire and for dance performances such as Fallen Thoughts, Trapped Inside and Veni, Vidi, Venus by dancer and choreographer Satya Roosens of compagnie 'Studio Eclipse'. Together they gave a workshop 'Interaction between dance and music' for dancers in Lithuania, 2016. In September 2010, Ananta won the 2nd prize in the Cafe Tango Music Award, a contest for tango composers in Stuttgard. She wrote the soundtrack for the short movie A Fair Tale by Nele Verreyken.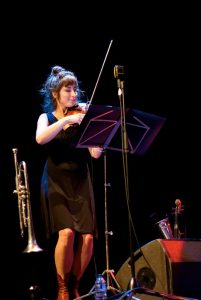 South America: After (and according to) her studies, Ananta played in many different projects that were related to the music of Argentina, with groups and musicians such as: Melingo, Hernán Reinaudo, Gotan Project (world tour in 2010-2011), Lalo Zanelli, Pablo Agri, Pavadita, Nicolas Enrich, Julian Peralta, Tomassini-Reinaudo Project, Nestor Tomassini, José Balé, Luis Stazo, Alfredo Marcucci, Juan-José Mossalini, Guardia Cadenera and many others.
She founded her tango quintet La Sieste Du Dromadaire with whom she recorded the album 'Tango from a dromedary point of view' in 2013 featuring special guests Gerardo Jerez Le Cam and Iacob Maciuca.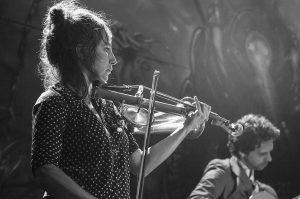 teaching: As a teacher she has been leading a 'tango ensemble' course and 'tango violin' at Muziekpublique since September 2016.
discography:
Pantufa Alcalina, Oba Loba, digital album, Silent Water, (2021, Belgium) 
Siete vidas te daría, Ceci n'est pas un violon, digital album, bandcamp (2020, Belgium)
Forest of Pictures, Fnüssjen, CD (2020, Belgium)
The Takenouchi Documents, Free Desmyter & Bassem Hawar, CD, W.E.R.F. (2019, Belgium)
Musica per insiemi, Giovanni di Domenico, vinyl, Black Sweat Records (2018, Belgium)
Imaginary Band, Lynn Cassiers, CD, Cleanfeed records (2018, Belgium)
Insalata Statica, Giovanni Di Domenico, vinyl, silent water (2018, Belgium)
Sir Robert Williams, Oba Loba, vinyl; three:four records (2017, Belgium)
Vive, Eleonór, Elly, CD (2016, Belgium)
Olla Vogala 20y. Wouter Vandenabbeele, CD (2016, Belgium)
Along A Line CD (2015, Belgium)
Arco, Giovanni Di Domenico & Jim O'Rourke – vinyl (2015, Belgium)
Kuko, Hernán Reinaudo CD (2014, Argentina)
Oba Loba, CD & vinyl (2014, Belgium, Portugal)
Tango from a dromedary point of view, La Sieste Du Dromadaire, CD, (2013, Belgium)
Tarrareando, Fabian Rodriguez CD (2013, Argentina)
Orbitando, Jose Bale & Marcelo García CD (2013, Argentina)
tango 3.0, Gotan Project live DVD (2011, France)
ĺ stillunni hljómar, Mógil CD (2011, Iceland)
Terra che cammina, Giovanni Di Domenico CD (2010, Belgium)
Vivo, Tomassini-Reinaudo Project CD (2009, Argentina)
Ró, Mógil CD (2009, Iceland)
Love is supreme, Kindred Spirit Ensemble CD (2008, the Netherlands)
2007, The Scene CD (2007, Netherlands)
Con cuerda, Pavadita CD (2006, the Netherlands)
Tempel der liefde, The Lau CD (2006, the Netherlands)
Farah, Petra CD (2005, Mexico)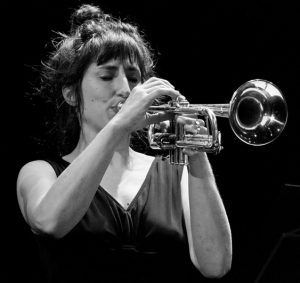 studies: masterclasses with Dino Saluzzi (masterclass Buenos Aires), Gustavo Mozzi (Argentinean rythmes such as candombe and murga), Pablo Agri (masterclass tango violin, Rotterdam and Buenos Aires), Ramiro Gallo (Orquesta Escuela, tango violin, Buenos Aires).
She had trumpet lessons with Jon Birdsong, Laurent Blondiau, Henk De Loose and Michel Paré and classical music and tango violin at the Rotterdam Conservatory (2002-2007) with teachers such as: Gustavo Beytelmann (composition, arrangement and analysis), Victor Hugo Villena (tango ensemble), Thijs Kramer and Andras Czifra (classical violin), Leo Vervelde (tango orchestra), Micha Molthoff, Martijn Van der Linden (tango violin), Wim Warman  (transcription), Marc Bischoff (latin ensemble), Anna Elis de Jong (Brazilian music) and others…